Food & Beverage
At the Hawaii Convention Center, the fragrance of abundant flowers and balmy ocean breezes  — as well as lots of hard work! — pique attendees' appetites. From the Center's 20,000-square-foot on-site kitchen, our culinary team produces dishes to keep your guests in a Hawaii state-of-mind, not simply satisfying hunger, but delighting taste buds and intriguing the imagination.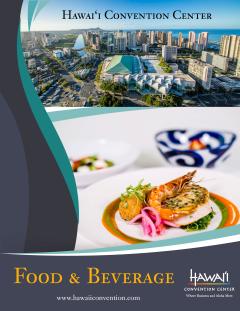 Island-Inspired Experiences
Menus are completely customizable, from aloha-inspired luncheons to completely immersive dining experiences, and can be scaled up or down depending on each client's budget.
You may also browse through our Standard Banquet Menus. Feel free to contact us for pricing.
F&B Services
Catered meals and banquets
Coffee and refreshment services
Theme parties
Crew, staff and green-room catering
Concessions
Booth services
Working with F&B
One of our experienced Catering Sales Managers will contact you up to nine months prior to your program to serve as your single point of contact, working with you and your budget to plan and service all of your food and beverage needs.
Once you're on site, our Sales Manager will work directly with your Catering Service Manager to see that all the details are delivered as planned.

Meet our F&B TEAM
F&B Policies
The Center is the exclusive provider of in-house food and beverage services.
Contracts for each of your food and beverage events are due with full prepayment of your estimated charges 30 days prior to your event.
Food sampling restrictions may apply.
Please note that no samples of food product, beverages (alcoholic or non-alcoholic) or other consumables can be distributed without prior written permission from the Food & Beverage Director.
Sampling to the trade and the public may require completing and submitting an "Application for Food Establishment Permit" and/or an "Exhibition Booth Diagram" form. Consult your Event Planner's Handbook for samples of both forms, and contact our Food & Beverage Director for assistance submitting the necessary applications.
Our F&B Team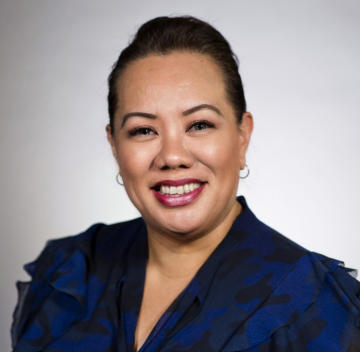 Helene Feagaimaalii
Director of Food and Beverage
Tel: (808) 943-3597
Fax: (808) 943-3085