Corporate Social Responsibility - Mālama Hawaiʻi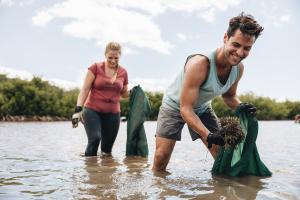 It's not only time to come back to Hawaiʻi. It's time to give back to Hawaiʻi.​ Hawaiʻi's corporate social responsibility program allows groups an opportunity to donate their time and mālama Hawaii for all. Simply put, mālama means to take care – of our earth, each other and ourselves. By making a positive impact through unique and enriching volunteer projects, groups will experience deeper connection to our people, place and culture.
Following is a list of community organizations offering a variety of volunteer opportunities appropriate for groups of all sizes. Please keep in mind that a donation or an honorarium is often extended to the nonprofit as a mahalo for their efforts as organizations often arrange exclusive experiences that require additional staffing and resources.
For more information or to inquire about scheduling a volunteer project, please contact Kainoa Daines, Senior Brand Director: kdaines@hvcb.org. 

Statewide
Hawaiʻi Land Trust (HILT) is Hawaiʻi's islands-wide land trust that is both a nonprofit and a nationally accredited land trust. We protect lands that are integral to Hawaiʻi's well-being and character, upholding our kuleana to these lands and the communities they are in, through thoughtful stewardship that deepens community connection to, and builds reciprocal relationships with ʻāina (land). 
An essential component to the success of HILT, volunteers help with restoration and conservation projects, including land stewardship.
Minimum attendees to proceed: None
Maximum capacity: Flexible, based on county restrictions
Languages fluently spoken by staff other than English: Hawaiian
 
Oʻahu
The USS Missouri, America's last battleship, served her country through three wars and is best known as the site of the signing of the Formal Instrument of Surrender, marking the end of World War II. Today, the "Mighty Mo" stands proudly overlooking her fallen sister ship, the USS Arizona, in Pearl Harbor. 
Volunteering offers a unique opportunity to view parts of the ship not open to the public and includes cleaning, sanding, touch-up painting and helping preserve the decks of the ship.
Minimum attendees to proceed: 5
Maximum capacity: 25 (based on county restrictions)
Languages fluently spoken by staff other than English: Japanese
Mālama Maunalua helps restore the marine environment by removing invasive algae from the nearshore waters, as part of an effort to continue the work of the Great Huki. From 2009-2011, a team of dedicated volunteers and staff removed 3 million pounds of invasive limu from 26 acres. Today, Mālama Maunalua continues this effort through volunteer workdays with groups of all sizes.
Minimum attendees to proceed: 5
Maximum capacity: 25 (based on county restrictions)
Note: Two months advance notice is greatly appreciated. 
Help preserve sacred Waimea Valley. Waimea Valley's volunteers are an important part of its mission as they help support the preservation of cultural sites and play a big role in its environmental conservation, forest restoration, and botanical garden maintenance. Volunteer opportunities are designed to inspire closer connections to our precious ʻāina (land), and the traditional Hawaiian cultural practices that we honor and celebrate.
Waimea Valley Volunteer Program welcomes you and your organization or group to engage in an awesome service learning experience. Exclusive workdays can be set up any day of the week, although the preferred days are Wednesday through Sunday from 9am to 12:30pm. Workdays are appropriate for participants of all ages.
Minimum attendees to proceed: 5
Maximum capacity: 60 (up to 125 can be accommodated if willing to split into smaller groups, at least four weeks advance notice required)
Note: Two weeks advance notice is greatly appreciated
 
Kauaʻi
The Friends of Kamalani and Lydgate Park coordinates beach cleanups to make Lydgate Beach Park appealing and welcoming to our community. Its recurring Saturday beach cleanups last two hours (8:30am - 10:30am). 
Volunteers typically clear away marine debris and driftwood from the Morgan's Ponds beach enclosure. Two weeks advance notice is greatly appreciated however two months advance notice is requested to adequately prepare for a unique scheduled event involving more than 25 persons.
Minimum attendees for an exclusive event: 25
Maximum capacity: 100
Languages fluently spoken by staff other than English: Could be arranged with advanced notice
 
Surfrider Kauaʻi is a non-profit grassroots organization dedicated to the protection and enjoyment of our world's oceans, waves and beaches. We focus on CARE: Conservation, Activism, Research, and Education. 
Volunteers will accompany a Surfrider team leader to help remove harmful plastics and other marine debris that pollutes our oceans and harms marine wildlife such as whales, seals and turtles. It's a great opportunity to leave Kauaʻi just a little better then when you found it while also providing a valuable group bonding experience.
Minimum attendees for an exclusive event: 8
Maximum capacity: 50, possibly more
Note: Two weeks advance notice is greatly appreciated
 
Hawaiʻi Island
The Amy B.H. Greenwell Ethnobotanical Garden is dedicated to conserve and support native plant resources and the associated traditional land use and cultural practices. This 15-acre botanical garden features over 200 species of "pre-Cookian" plants, which include endemic, indigenous, and Polynesian introduced flora. 
Saturday morning is typically weeding time, but special arrangements may be possible depending on staff availability. The Garden is open Thursday through Saturday from 9 am - 2 pm.
Minimum attendees for an exclusive event: None
Maximum capacity: 12
Languages fluently spoken by staff other than English: Japanese with advanced notice 
The mission of Hawaiʻi Environmental Restoration (HER) is to help restore the natural integrity of Hawaiʻi's environment while providing a basis for community education about Hawaiʻi's vegetation issues and solutions. HER's primary project focuses on the restoration and preservation of Keauʻohana State Forest Reserve, the largest and most intact lowland rainforest remaining below 1,000 feet in the State of Hawaiʻi. 
At times volunteers will help plant native species in the forest, but more often, efforts involve hand-pulling of invasive plant species that threaten the integrity of the rainforest, and tending of native species in support of its resilience. Workdays are Mondays 9:30am – 4pm for groups of five or less; larger groups can be scheduled on most weekdays.
Minimum attendees: None
Maximum capacity: 16
Note: Terrain is rugged
Uluhaʻo o Hualālai's mission is to engage families in the stewardship of Hualālai's natural and cultural resources for generations to come. Work days and special cultural workshops aim to bring the community together while enhancing the native forest ecosystems by removing aggressive invasive species, while propagating and out-planting select native species. 
Minimum attendees: None
Maximum capacity: 10
Waikōloa Dry Forest Initiative is a community driven non-profit that cares for the dryland forest of Waikoloa. Leave a legacy in the dryland forest by helping to restore this special ecosystem through native planting, seed collection, and weed management. 
Volunteers will spend the morning learning about the unique history and ecology of Waikoloa and lending their energy and hands to the restoration efforts that are ongoing in the preserve. Workdays can be scheduled Monday through Saturday, 8am – noon.
Minimum attendees: 9
Maximum capacity: 30
 
Maui
Kipuka Olowalu is a 72-acre cultural reserve that stretches mauka (mountain side) to makai (ocean side). The organization seeks to perpetuate Hawaiian customary practices through so that natural and cultural resources are available for generations to come. 
Volunteers partake in restoration work in areas of the property including general cleaning, invasive species removal, and native plantings followed by an educational session. Regular volunteer days for individuals and small groups take place Wednesdays and Thursdays 7:30 am - 11:30 am. Groups larger than 10 people can be accommodated on different days.
Minimum attendees: None
Maximum capacity: 50
Located on nearly 8 acres of tropical land and home to rescued goats, cats, geese, donkeys, sheep, rabbits, pigs, ducks, deer and a cow, Leilani Farm Sanctuary provides care for rescued animals and humane education to the community. Workdays typically take place Mondays and Wednesdays at 9am and include tasks like gardening, animal grooming, trail maintenance and cleaning the barn.
Minimum attendees: None
Maximum capacity: 30
KAʻEHU is a nonprofit organization with the goal to restore the land and perpetuate traditional Hawaiian culture using a community-based, inclusive, family-oriented approach to environmental stewardship and sustainable agriculture. 
Volunteer opportunities include both land restoration and beach cleanups.
Minimum attendees: 10
Maximum capacity: 25
Languages fluently spoken by staff other than English: Hawaiian
Located on the Keanae peninsula along the Road to Hāna, Na Mahiʻai ʻo Keanae provides cultural classes, conservation workshops and events for community members, visitors, and businesses to help increase cultural knowledge, history of the area, and promote hands-on learning experiences in farming and conservation of the natural resources of Keanae.
Workday activities include work in the loi (taro patch), clearing trails and waterways, and removing marine debris from the shoreline.  
Minimum attendees: None
Maximum capacity: Flexible, based on county restrictions
 
Molokaʻi
The mission of the Molokaʻi Land Trust is to protect and restore the land, natural, and cultural resources of Molokaʻi, and to promote, educate, and perpetuate the unique Native Hawaiian traditions and character of the island for the benefit of the future generations, particularly Native Hawaiians.
Volunteer activities are determined by the time of year, weather, and program activities at the time. Common activities include invasive species removal, out planting of common and rare native species, seed collecting, nursery work/plant propagation, fence repairs/maintenance, etc. 
Minimum attendees: None
Maximum capacity: 14
Note: There are no restrooms or sanitation facilities on the preserve. Participants need to show proof of vaccination in order to participate.