Hawaii Convention Center Awards & Accolades
See also: Convention Center, Why Choose Hawaii Convention Center, Environmental Sustainability
The Hawaii Convention Center continues to receive a stream of awards for just about every aspect of convention management. Here is a brief list of some of our favorite awards and accolades (Click HERE to view our Full List of Awards):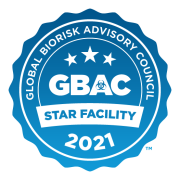 The Hawai'i Convention Center is the first meetings venue in Hawaii to earn the Global Biorisk Advisory Council® (GBAC) STAR™ Facility Accreditation, after meeting rigorous standards for cleaning, disinfection and infectious disease prevention.
The GBAC STAR Accreditation Program is performance-based and designed to help facilities establish a comprehensive system of proper cleaning protocols, disinfection techniques and work practices to combat biohazards and infectious disease like the novel coronavirus. The Center joins a select group of meetings and events facilities that are accredited by GBAC, which is a division of ISSA, the world's leading cleaning industry association. To achieve accreditation, the Center was required to demonstrate compliance with the program's 20 core elements, which range from standard operating procedures and risk assessment strategies to personal protective equipment and emergency preparedness and response measures. There is an annual reaccreditation process.
To view our health and safety protocols, click HERE.

The Hawai'i Convention Center received the 2019 Venue Excellence Award from the International Association of Venue Managers (IAVM).  The Venue Excellence Award recognizes five IAVM venues of any type within the membership which demonstrate excellence in the management and operation of public assembly venues.
Multi-Year Awards & Accolades
2017-2020 Winner for Best Convention Center in the Far West Region
The Stella Awards recognize hotels, convention centers, conference centers, airlines, cruise lines, DMO/CVBs, and DMCs that consistently deliver quality service and innovation to meeting and events professionals. Finalists in each category were determined by industry professionals during an open voting period, while winners were selected by an expert panel of judges overseen by the editors of Northstar Meetings Group's leading brands, Meetings & Conventions and Successful Meetings. 
SportsEvents Magazine
2017 - 2019: Readers' Choice Award for 3 consecutive years.
Prime Site Award
2018 - 2019 Prime Site Award - Facilities and Destinations Magazine - It is the 20th year the Center has won the award. The Center is among 89 Prime Site Award winners this year, which represent the top convention centers in the U.S., Caribbean and Canada. Prime Site Award winners are selected by Facilities & Destinations magazine readers based on criteria such as convenient air accessibility, a state-of-the-art venue, a diverse and convenient hotel package, and a forward-thinking attitude.
1999-2016, 18 Consecutive Years – Facilities & Destinations magazine
2020 - The Hawai'i Convention Center was among the 20 businesses, venues and events to receive the Hawaii Green Business Program (HGBP)'s Hawaii Green Business Program award for undertaking energy efficiency and sustainable business practices that will help their bottom line while advancing Hawaii's clean energy and sustainability goals. A partnership between Hawaii's Department of Business, Economic Development, and Tourism; Department of Health; Chamber of Commerce of Hawaii; and the Board of Water Supply, this program highlights businesses that are dedicated to creating a sustainable Hawaii.
2018 - The Hawai'i Convention Center attained the  Po'okela Level (excellence in Leadership) for the Hawai'i Green Business Program for venues. The state's Hawaii Green Business Program (HGBP) assists and recognizes businesses that strive to operate in an environmentally, culturally and socially responsible manner.
2016 - The Hawai'i Convention Center was recognized for environmental stewardship by the State of Hawai'i, Department of Business Economic Development and Tourism, the Hawai'i Department of Health and the Chamber of Commerce of Hawai'i.  HCC achieved the highest level of Ma'o Hau Hele, venues leading the way in sustainability
Green Event Award
2015-2016 - 2015 Hawai'i Tourism Conference from the Hawai'i Department of Business Economic Development and Tourism, the Hawai'i Department of Health and the Chamber of Commerce of Hawai'i
2012– 2013, 2013– 2014 – Hawaii Build & Buy Green Conference from the Hawaii Department of Business Economic Development and Tourism, the Hawaii Department of Health and the Chamber of Commerce Hawaii
Additional Awards & Accolades
2020 Pacific Edge Magazine's "Hospitality Executive of the Year" award  
Hawai'i Convention Center General Manager Teri Orton was recognized by Pacific Edge Magazine's Business Achievement Awards. This award recognized a hospitality executive whose skill, foresight, agility, and vision have enabled them to navigate their business or organization through the changing times, while making a positive contribution to Hawai'i's critically important hospitality industry.
2019 Smart Women in Meetings (Smart Meetings)
Smart Meetings, a leading media company has named Hawaii Convention Center General Manager, Teri Orton, among the 29 Industry Leaders in its annual Smart Women in Meetings Awards. This prestigious awards platform serves as a celebrated benchmark for women who are making significant impacts on the meetings industry in North America. 
2019 President's Excellence Award for Sanitation
Best in Class for Convention Centers from Levy Restaurants, the Center's food and beverage service partner. UL Everclean, a third-party food safety and sanitation audit company, audited the Center three times in 2019, with the Center receiving the highest UL Everclean audit score (99.61 percent) within the Levy Restaurants convention center group.
Awarded by the U.S. Green Building Council (USGBC), The Center is the first and only "public assembly, convention center" to earn LEED v.4 O+M Gold Certification in the U.S., and is the only LEED v.4 O+M Gold project in Hawai'i.
2018 Business Destinations Travel Awards - Best Congress and Convention Center, North America
    
2018 Smart Meetings Platinum Choice Award for the Hawaii Convention Center
 
2018 Woman of the Year (Women in Lodging & Tourism – Hawaii Chapter)
Hawaii Convention Center General Manager Teri Orton was named 2018 Woman of the Year, a top honor conferred by the Women in Lodging & Tourism – Hawaii Chapter, an affiliate of the Hawaii Lodging & Tourism Association (HLTA). The annual hospitality industry award goes to a woman with outstanding leadership in her profession and community
Awarded to General Manager, Teri Orton. The award recognizes the top professionals making a difference in the meetings industry.
Smart Meetings 2016 Platinum Choice Award for Meet Hawai'i
Honors premier CVBs, hotels and venues for outstanding service from across North America.
 
2016 AIPC Apex Award for World's Best Congress Center - The Hawaii Convention Center Ranked Top 3 Among 200 of the World's Best Convention Centers.
The AIPC Apex Award is made bi-annually in recognition of the highest client rating received by a convention centre on the basis of a comprehensive analysis of centre performance based on customer satisfaction surveys. An independent "blind" evaluation process carried out by Ipsos, a recognized international market research company, ensures an objective analysis of the data which addresses a series of factors including centre facilities, project management capabilities, catering and technical capacity.
2012 Best Convention Host Award
As voted by the more than 11,000 readers who participated in Premier Traveler magazine's "Best of 2012" survey; the Center was the only convention facility in the country and the only Hawaii facility to be honored in 2012
2012 Distinctive Achievement Award
Recognizes the top five U.S. convention centers for excellence in meetings assistance and service – Association Conventions & Facilities magazine
2012 Koa Anvil Award of Excellence
Hawaii Convention Center Reputation/Brand Management for Travel/Tourism/Hospitality – Awarded by the Public Relations Society of America (PRSA), Hawaii Chapter for "Road to APEC" outreach
2012 Koa Anvil Award of Excellence
Hawaii Convention Center Events & Observances for Travel/Tourism/Hospitality – Awarded by the Public Relations Society of America (PRSA), Hawaii Chapter for the April 2011 American Academy of Neurology Brain Health Fair
Best in Business Travel Award
2008– 2010, 3 Consecutive Years for "Best Conference or Convention Center/City" – Business Traveler magazine, the world's leading publication for frequent business travelers
2010 Inner Circle Award – Top Convention Centers Category
Recognition for Excellence in Quality and Service in the Meetings and Hospitality Industry by Association Meetings Magazine
2009 PCMA Chairman's Award
From the Professional Convention Management Association
Betty Crocker Landscape Award
2007 Professional Gardens Award of Excellence (Rooftop Terrace Garden); 2003 Scenic Hawaii, Inc.;
2007 Tour de Trash Certificate of Merit
U.S. Conference of Mayors' 2007 City Livability Award for Outstanding Achievement, City & County of Honolulu
2006 Inner Circle Award
Recognition for Excellence in Quality and Service in the Meetings and Hospitality Industry – Association Meetings Magazine
2005 Meeting Planners Choice Award
Recognition for Excellence in the Hospitality Industry – Meeting News Magazine

2003 Best Use of Nature in Design
From Tradeshow Week Magazine

2001 Award of Excellence and Mayor's Choice Award
From the Honolulu Chapter of American Institute of Architects (AIA), the highest level of recognition for projects that exemplify superior architectural design on all levels of analysis
1999 Ten Most Innovative Architectural Projects of the 1990's
Hawaii Convention Center judged No. 1 in a survey of Hawaii architectural projects – Building Industry Magazine
1998 Design/Build Award
For New Construction Over $500,000 – Contracting Business Magazine
1998 National Design-Build Award
For Best Public Project Over $15 million, designed by LMN Architects and Wimberly Allison Tong & Goo; single source general contractor Nordic/PCL  Design- Build Institute of America
1998 Energy Efficiency Award: Energy Project of the Year
From the Hawaiian Electric Company (HECO)
1998 Grand Award for Excellence in Engineering Design
Designed by structural engineering firm of Skilling Ward Magnuson Barkshire, Inc. – American Consulting Engineers Design