Corporate Social Responsibility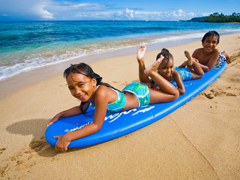 Hawaii's corporate social responsibility program allows groups an opportunity to donate their time and make Hawaii a better place for all. The bonus for you is that these volunteer projects take place in idyllic tropical settings that need a little assistance. Groups leave Hawaii a better place than they found it, and help improve the environment for those who come in the future.
Preserve Hawaii
Preserve Hawaii is an online resource for finding volunteering opportunities with Hawaii's environmental organizations statewide: www.preservehawaii.org.

Find other opportunities for across the state:
Oahu
Honolulu Habitat for Humanity
Honolulu Habitat for Humanity is a local affiliate of a world-wide organization that builds houses with volunteer labor and sells those houses to families in need at affordable rates. Founded in 1988, our mission is to eliminate poverty housing on the island of Oahu.

Construction experience is NOT needed to volunteer at a home building site!  Habitat's volunteer Site Supervisor will help train volunteers in the construction work needed to build the new home.

Honolulu Habitat for Humanity
922 Austin Lane, #C-1
Honolulu, HI  96817

Contact:      TJ Joseph, Office Manager
Phone:        808-538-7070
Fax:              808-538-7171
E-Mail:         tj@honoluluhabitat.org
Website:     www.honoluluhabitat.org

Hooulu Aina
Hooulu Aina is a welcoming place of refuge where people of all cultures sustain and propagate the connections between the health of the land and the health of the people.

Community Work Day:
3rd Saturday of the Month / 8:30am – 12:00pm
Every Third Saturday of the Month, volunteers and community members come together to learn and work in the forest, garden, and kitchen to malama, or care for, Kalihi Valley. Native reforestation, community food production, and healthy food preparation fill our morning, and at noon we share harvest and potluck under the tent. Community members and large groups are encouraged to sign up. Our work difficulty levels welcome all ages and families with small children.

Kokua Kalihi Valley
Hooulu Aina
3659 Kalihi Street
Honolulu, HI  96819

Hooulu Aina Office
Phone:       (808) 841-7504
Email:        aina@kkv.net
Website:    www.hoouluaina.com

Hui Hawaii – Hui o Koolaupoko
Hui o Koolaupoko relies heavily on community input and participation to initiate and maintain projects supporting Hawaii's native environment. Volunteers help with erosion control, water quality monitoring, invasive species removal, and habitat restoration using native Hawaiian flora. Two projects needing volunteer support are as follows:

Heeia Stream Restoration Project – Volunteers help restore sections of the stream banks and nearby forest with native vegetation, installing erosion control material and educational workshops. The work can be done by all ages and is good for groups of 15-30 or more, and involves a variety of projects from weeding to hauling branches to planting trees.

Kaha Garden – Volunteerism on a smaller scale (10-15 people) at a park on Oahu.  Volunteers can acquaint themselves with the native plants while removing invasive species and doing basic gardening maintenance.

Hui o Koolaupoko
1051 Keolu Drive, #208
Kailua, HI 96734

Contact:      Community Coordinator - Kristen Nalani Mailheau
Phone:        (808) 381-7202
Email:         nalani@huihawaii.org
Website:     www.huihawaii.org

MAO Farms
Mala Ai Opio Community Food Systems Initiative or MAO was established in 2001 to recognize our land and youth as our most important assets and to catalyze educational and entrepreneurial opportunities around these assets to address the root causes of our own cultural, social, economic and environmental poverty. MAO is an acronym for mala (garden) ai (food) opio (youth) or youth food garden and affirms our belief that when we reconnect and restore the relationship between the land and the people, we are able to return abundance and prosperity to youth, to their families and to the community.

We welcome visitors to the farm through our monthly G.I.V.E. (Get Involved, Volunteer Environmentally) Days, the last Saturday of each month. Visit the "Our Programs" page for more information on G.I.V.E. Days. Unfortunately, due to the work and education demands of our youth and staff, we can only host visitors or tours by appointment only.

If you would like to attend a G.I.V.E. Day, please be sure to R.S.V.P. To reserve your space, please call our office or email and include in the text of your email your complete contact information and a head count of those you will be bringing to G.I.V.E. Day. Additionally, please fill out our Education Resource Request Form and mail to WCRC, PO Box 441, Waianae, HI 96792, or email to info@maoorganicfarms.org or fax 808-696-5569 to our office.

MAO Organic Farms
86-210 Puhawai Road
Waianae, HI 96792

Phone:       808-696-5569
E-Mail:        info@maoorganicfarms.org
Website:    maoorganicfarms.org

Paepae O Heeia
Paepae o Heeia is proud to offer a variety of fishpond experiences tailored for businesses and their employees.  Our corporate visits will challenge you to step outside the walls of your business and into an exciting outdoor environment on Oahu that few have experienced.  Centered around Heeia Fishpond, the rejuvenating and thought-provoking experiences will encourage participants to use all of their senses and skills while learning and communicating in a new setting.  It is our goal that each experience, which we will tailor to your needs, will offer a new opportunity to spark creative energy, foster camaraderie, and most importantly nurture a love for Hawai'i as our home in each of the participants.

Paepae o Heeia relies heavily on a dedicated and enthusiastic volunteer base to get much of the restoration and rehabilitation work completed. The work is physically rigorous but very rewarding.

Paepae O Heeia
46-077 Ipuka Street
Kaneohe, HI  96744

Phone:     (808) 236-6178
Email:      admin@paepaeoheeia.org
Website:  paepaeoheeia.org
 
University of Hawaii's Lyon Arboretum
The University of Hawaii Lyon Arboretum and Botanical Garden is the only university botanical garden located in a tropical rainforest in the United States, as well as the only easily accessible tropical rainforest on the island of Oahu. The arboretum consists of almost 200 acres at the top of the Manoa watershed with a set of small cottages and greenhouses used for research and community education about plants and the natural environments of Hawaii.

The Harold L. Lyon Arboretum offers a numerous volunteer opportunities in the areas of educational programming, conservation, propagation, garden maintenance, and more. You can have a fulfilling experience while helping to further our mission of education and to the broader community and supporting education service activities for a diverse audience.

Some of the great benefits of being a volunteer at Lyon Arboretum is serving your community and nature, working in a beautiful environment and the joy of working with and meeting people with similar interest

Lyon Arboretum
3860 Manoa Road
Honolulu, HI 96822

Phone:        (808) 988-0456
Fax:              (808) 988-0462
E-Mail:         rsears@hawaii.edu
Website:     manoa.hawaii.edu/lyonarboretum/
Kauai
Kauai Habitat for Humanity
auai Habitat for Humanity is a locally run affiliate of Habitat for Humanity International, a nonprofit, ecumenical Christian housing organization. The organization is committed to eliminating poverty housing and homelessness on Kauai, and to make decent shelter a matter of conscience and action. Kauai Habitat for Humanity was founded in 1993 following the damage caused to Kauai by Hurricane Iniki and since then has completed 100 houses around the island from Hanalei to Kekaha, providing 550 people with safe, decent, affordable shelter.

No job experience required!  This project has a variety of duties ranging from faith leaders to thrift store volunteers to construction work.  Typically accommodating a maximum of 20 volunteers, the organization welcomes all the help they can get.  Schedule by the day or week.

Kauai Habitat for Humanity
P.O. Box 28
Eleele, HI 96705

Contact:     Christina Trugillo, Volunteer Coordinator
Phone:       (808) 335-0296
E-Mail:        volunteer@kauaihabitat.org
Website:    www.kauaihabitat.org
National Tropical Botanical Garden
The mission of the National Tropical Botanical Garden is to enrich life through discovery, scientific research, conservation, and education by perpetuating the survival of plants, ecosystems, and cultural knowledge of tropical regions.

There are a variety of volunteer opportunities located on the website, ranging from forest and plant restoration to general garden maintenance. NTBG handles groups on an individual basis (volunteer@ntbg.org) by matching the number of helping hands with the current projects on the grounds.

National Tropical Botanical Garden - Volunteer Program
3530 Papalina Road
Kalaheo, HI 96741

Phone:       (808) 332-7324, ext. 236
E-Mail:        volunteer@ntbg.org
Website:    www.ntbg.org
 
Hawaii, the Big Island
Habitat for Humanity West Hawaii
Habitat For Humanity West Hawaii is part of a global, nonprofit housing organization operated on Christian principles that seeks to put God's love into action by building homes, communities and hope. Habitat For Humanity West Hawaii is dedicated to eliminating substandard housing locally and worldwide through constructing, rehabilitating and preserving homes; by advocating for fair and just housing policies; and by providing training and access to resources to help families improve their shelter conditions. Habitat for Humanity was founded on the conviction that every man, woman and child should have a simple, durable place to live in dignity and safety, and that decent shelter in decent communities should be a matter of conscience and action for all.

Habitat For Humanity West Hawaii uses volunteers of various skills and talents! We need people to help us on our committees, build sites, provide lunches for our volunteers, and help with office support, special events and projects. We are recruiting volunteers for future Habitat builds and Critical Home Repairs in Waikaloa, Kona, Ocean View, Waimea and Captain Cook.

Volunteers (skilled and unskilled) are always needed to help with the many different facets of our projects. Some areas in which we would appreciate your help and expertise include: Family Selection, Family Support, Fundraising & Public Relations, Site Selection, Construction, and our ReStores.  All volunteers for construction and ReStores, must be 16 years of age or older. Volunteers are needed on various weekdays and weekend.

73-4161 Ulu Wini Place, Bay 1
Kailua-Kona, HI 96740

Contact:     Pilialoha Kalele, Volunteer Coordinator
Phone:       (808) 331-8010
Email:        info@habitatwesthawaii.org
Website:    www.habitatwesthawaii.org
HWF Hawaii Island Marine Debris Removal Project
HAWAII WILDLIFE FUND (HWF) is a non-profit organization dedicated to the CONSERVATION of Hawaii's native wildlife through research, education and ADVOCACY. HWF Team is made up of educators, conservationists, researchers, naturalists, communities, volunteers and donors devoted to the protection of Hawaii's fragile marine ecosystem and inhabitants. We bring a variety of experiences together to serve a common goal.
Volunteers are a critical part of this shoreline effort and they come from all over the world to participate. Group sizes can be 10 to 20 people.
    
Hawaii Wildlife Fund
P.O. Box 790637
Paia, Hawaii 96779

Phone:       (808) 280-8124
E-Mail:        wild@aloha.net
Website:    www.wildhawaii.org
 
Waiohinu – Kau Forest Reserve Protection
HWF initiated action to protect this resource-rich site by working with the responsible state agencies to facilitate a transfer of the coastal strand from grazing lease to "forest reserve" status, an action that was approved by the Hawaii Board of Land and Natural Resources in 2005. HWF is paying for the boundary survey and costs of formal subdivision to complete the transfer. HWF is also seeking grant funding to support a community-based project to restore the ponds to native ecosystems and will work with the state to develop a management plan for the site. Maximum group size is 15 people.

Hawaii Wildlife Fund
P.O. Box 790637
Paia, Hawaii 96779

Phone:       (808) 280-8124
E-Mail:        wild@aloha.net
Website:    www.wildhawaii.org/projects.html
Maui
Community Work Day Program
The dedication and determination of Malama Maui Nui volunteers has been key in maintaining the beauty and health of our islands since our organization was established over two decades ago. There are multiple ways to volunteer in Maui County to help keep our islands beautiful.  We invite residents and island visitors of any age and ability to share their skills and talents for the preservation of our islands.

Community Work Day Program
P.O. Box 757
Puunene, HI 96784

Contact:     Lauren Kennedy, Volunteer Coordinator
Phone:       (808) 877-2524
E-Mail:        lauren@cwdhawaii.org  
Website:    malamamauinui.org
 
Haleakala National Park Group Service Project
Volunteers assist with various resources management projects such as planting native species (during rainy season only), removal of alien plants; inspection, and maintenance and repair of feral animal control fences. Many projects are located in remote areas of Haleakala requiring extended periods living in the backcountry under primitive conditions and may involve hiking over steep, rocky terrain. Some specialized projects require background in biology, botany or wildlife biology. Maximum group size per day is 10 to 15 people.

Haleakala National Park
P.O. Box 369
Makawao, HI 96768

Phone:       (808) 572-4487
Website:    www.nps.gov/hale/supportyourpark/group-service-projects.htm
 
Molokai
Ka Honua Momona
ur mission is to be a model of sustainability mauka a makai (from the mountains to the sea). We seek to foster connections between all aspects of the island ecosystem, including the people and culture, and we firmly believe that Molokai can again return to abundance and become a self-sufficient model for others. Our primary long-term goals are to:
Develop indigenous education systems by revitalizing natural and cultural resources;
Perpetuate traditional knowledge and stewardship while evolving with modern technology.

Ka Honua Momona
P.O. Box 482188
Kaunakakai, HI 96748

Contact:    Noe Yamashida
Phone:        808-553-8353
E-Mail:        KHMIintern@gmail.com
Website:    www.kahonuamomona.org


Related Links
> Added Value resources
> Hot Rates, Hot Dates
> More Reasons "Why" Hawaii – DMC offer
> Enjoy Hawaii for free